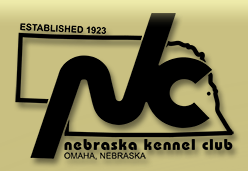 Nebraska Kennel Club
Scent Work Trials
July 10 - 12, 2020
The Nebraska Kennel Club would like to thank all the exhibitors, judges, and volunteers who helped make our July 10 - 12 Scent Work Trials a great success. Hosting this event at this time presented unique challenges due to the COVID-19 pandemic, so we would especially like to thank everyone involved for adhering to the rules and guidelines that were established. Who would have guessed that face masks could make such a fashion statement?
Below are links to photos from the event, including an index of exhibitors by breed (especially useful considering there are over 1300 photos!). Click the "DOWNLOAD" button underneath any photo to save a high-resolution copy suitable for printing; the downloads are formatted for 8" by 10". I give permission for viewers to download and use any photos they wish free of charge.
Feel free to contact me for any photo requests
Or, click a link below to go to photos from that day:
Friday July 10 photos
Saturday July 11 photos
Sunday July 12 photos

INDEX BY EXHIBITOR:
These links take you to the top of a page, you may need to scroll down to find a specific dog. If a trial is missing it means I did not get pictures of that trial.
| | | | |
| --- | --- | --- | --- |
| All American Dog | Bindi | Fri | |
| | | | |
| | | Sat | |
| | | | |
| | | Sun | |
| | | | |
| All American Dog | Detroit | Fri | |
| | | | |
| | | Sat | |
| | | | |
| | | Sun | |
| | | | |
| All American Dog | Kayza | Sun | |
| All American Dog | Roo | Fri | |
| | | | |
| | | Sun | |
| | | | |
| | | | |
| Australian Shepherd | Aella | Fri | |
| | | | |
| | | Sat | |
| | | | |
| Australian Shepherd | Ryker | Fri | |
| | | | |
| | | Sat | |
| | | | |
| | | Sun | |
| | | | |
| Beagle | Ellie | Fri | |
| Beagle | Lily | Sat | |
| | | | |
| | | Sun | |
| Border Collie | Chelsie | Fri | |
| | | | |
| | | | |
| | | Sun | |
| | | | |
| Border Collie | Clare | Fri | |
| | | Sun | |
| Border Collie | Kona | Sat | |
| | | | |
| | | Sun | |
| | | | |
| Border Collie | Reign | Fri | |
| | | | |
| | | Sat | |
| | | | |
| | | | |
| | | | |
| | | Sun | |
| Border Collie | Rick | Fri | |
| | | | |
| | | Sat | |
| | | | |
| | | Sun | |
| | | | |
| Border Collie | Rye | Fri | |
| | | | |
| | | | |
| | | Sat | |
| | | | |
| | | | |
| | | | |
| | | Sun | |
| | | | |
| | | | |
| Border Terrier | Cass | Fri | |
| | | | |
| | | Sat | |
| | | | |
| | | | |
| | | Sun | |
| Border Terrier | Grace | Fri | |
| | | | |
| | | Sat | |
| | | Sun | |
| Border Terrier | Max | Fri | |
| | | | |
| Border Terrier | Molly | Fri | |
| | | Sat | |
| Border Terrier | Stryker | Fri | |
| | | | |
| | | Sat | |
| | | | |
| | | Sun | |
| | | | |
| Border Terrier | TImer | Fri | |
| | | | |
| | | Sat | |
| | | Sun | |
| Bouvier des Flandres | Buffy | Fri | |
| | | | |
| Briefing | | Sat | |
| Bull Terrier | Piquet | Fri | |
| | | | |
| | | Sat | |
| | | | |
| | | Sun | |
| | | | |
| | | | |
| Dalmatian | Jeep | Fri | |
| | | | |
| | | | |
| | | Sat | |
| | | Sun | |
| | | | |
| | | | |
| English Springer Spaniel | Mayzie | Sun | |
| | | | |
| English Springer Spaniel | Missy | Sun | |
| | | | |
| Field Spaniel | Cutter | Sat | |
| | | | |
| German Shepherd Dog | Kinya | Sat | |
| | | | |
| | | Sun | |
| | | | |
| German Shepherd Dog | Sula | Fri | |
| | | | |
| | | Sat | |
| | | Sun | |
| Golden Retriever | Grover | Fri | |
| | | | |
| | | Sat | |
| | | | |
| | | Sun | |
| | | | |
| | | | |
| Golden Retriever | Link | Fri | |
| | | Sun | |
| Japanese Chin | Sachi | Fri | |
| Judge | Sharon Dowell | Fri | |
| Kerry Blue Terrier | Dazzle | Fri | |
| | | | |
| Labrador Retriever | Dillon | Fri | |
| | | | |
| | | Sat | |
| | | | |
| | | Sun | |
| | | | |
| Labrador Retriever | Kelsey | Fri | |
| | | | |
| | | | |
| | | Sat | |
| | | | |
| Labrador Retriever | Keo | Sun | |
| | | | |
| | | | |
| Labrador Retriever | Lindsey | Fri | |
| | | | |
| | | | |
| | | | |
| | | Sat | |
| | | | |
| | | | |
| | | | |
| Lagotto Romagnolo | Jelly | Sun | |
| | | | |
| Miniature American Shepherd | Bandit | Fri | |
| | | | |
| | | Sat | |
| | | | |
| | | Sun | |
| | | | |
| Miniature Schnauzer | Lear | Fri | |
| | | Sat | |
| | | | |
| | | | |
| | | Sun | |
| | | | |
| Miniature Schnauzer | Lily | Sun | |
| | | | |
| Nova Scotia Duck Tolling Retriever | Cooper | Fri | |
| | | | |
| | | Sat | |
| | | | |
| | | Sun | |
| | | | |
| Nova Scotia Duck Tolling Retriever | Tiki | Fri | |
| | | | |
| Papillon | Alec | Sat | |
| | | | |
| | | Sun | |
| Papillon | Chanel | Fri | |
| | | Sat | |
| Papillon | Pyro | Sun | |
| Papillon | Robert | Fri | |
| | | | |
| | | Sat | |
| | | | |
| Papillon | Style | Sat | |
| | | | |
| | | Sun | |
| Pomeranian | Dragon | Sat | |
| | | Sun | |
| Poodle | Dahlia | Fri | |
| | | Sat | |
| | | Sun | |
| Poodle | Icy | Fri | |
| | | | |
| | | Sat | |
| | | Sun | |
| | | | |
| Poodle | Jet | Fri | |
| | | | |
| | | Sun | |
| | | | |
| Poodle | Lily | Fri | |
| | | Sat | |
| Poodle | Misty | Fri | |
| | | Sat | |
| | | | |
| | | Sun | |
| | | | |
| Poodle | Tugger | Sat | |
| | | | |
| Rottweiler | Castor | Fri | |
| | | | |
| | | Sat | |
| | | Sun | |
| Rottweiler | Quesa | Fri | |
| | | | |
| | | Sat | |
| | | | |
| | | Sun | |
| | | | |
| | | | |
| Shetland Sheepdog | Cypher | Fri | |
| | | | |
| | | Sat | |
| | | | |
| | | Sun | |
| | | | |
| | | | |
| Shih Tzu | Grayson | Sat | |
| | | | |
| Standard Schnauzer | Gabby | Fri | |
| | | | |
| | | Sat | |
| | | | |
| | | Sun | |
| | | | |