Garlic-Rosemary Roast Chicken with Jus


Chicken and Brine

1/2 cup table salt
10 cloves garlic , unpeeled
3 sprigs fresh rosemary
1 whole chicken (about 4 pounds), giblets discarded
Garlic-Rosemary Paste

2 teaspoons minced fresh rosemary
2 medium cloves garlic , minced or pressed through garlic press (2 teaspoons)
1/8 teaspoon table salt
ground black pepper
1 tablespoon extra-virgin olive oil , plus extra for brushing chicken
Jus

10 cloves medium-large garlic , unpeeled
1/2 teaspoon extra-virgin olive oil
1 3/4 cups low-sodium chicken broth
1/2 cup water
1/4 cup dry white wine or vermouth
1 sprig fresh rosemary
Table salt and ground black pepper


1. FOR THE CHICKEN AND BRINE: Combine salt, garlic, and rosemary in zipper-lock bag; seal, pressing out air. Pound with meat pounder or rolling pin until garlic cloves are crushed. Transfer mixture to large container or stockpot and stir in 2 cups hot tap water; let stand 10 minutes to release flavors. Add 1 1/2 quarts cold tap water and stir until salt is dissolved. Submerge chicken in brine and refrigerate 1 hour.
2. Remove chicken from brine and pat dry with paper towels. Adjust oven rack to lower-middle position and heat oven to 450 degrees. Set V-rack in small roasting pan and lightly spray rack with nonstick cooking spray.
3. FOR THE PASTE: Stir together rosemary, garlic, salt, 1/4 teaspoon pepper, and 1 tablespoon oil in small bowl. Rub about 1 1/2 teaspoons of paste in cavity of chicken. Carefully loosen skin over breast and thigh on each side; slip half of remaining paste under skin on each side of breast, then, using fingers, distribute paste over breast and thigh by rubbing surface of skin (see illustrations 1 through 3, below). Tie ends of drumsticks together with kitchen twine and tuck wings behind back. Rub all sides of chicken with 2 teaspoons oil and season with pepper. Set chicken breast-side down on prepared V-rack and roast 15 minutes.
4. FOR THE JUS: While chicken is roasting, toss garlic cloves with 1/2 teaspoon oil; after chicken has roasted 15 minutes, scatter cloves in pan and continue to roast 15 minutes longer.
5. Remove roasting pan from oven; decrease oven temperature to 375 degrees. Using tongs or wads of paper towels, rotate chicken breast-side up; brush breast with 1 teaspoon oil. Add 1 cup broth and 1/2 cup water to pan and continue to roast until chicken is medium golden brown and instant-read thermometer inserted into thickest part of breast and thigh registers about 160 and 175 degrees, respectively, adding more water to roasting pan if liquid evaporates. Tip V-rack to allow juices in cavity to run into roasting pan. Transfer chicken to large plate.
6. Remove garlic cloves to cutting board. Using wooden spoon, scrape up browned bits in roasting pan and pour liquid into 2-cup liquid measuring cup. Allow liquid to settle; meanwhile, peel garlic and mash to paste with fork. Using soup spoon, skim fat off surface of liquid (you should have about 5/3 cup skimmed liquid; if not, supplement with water). Transfer liquid to small saucepan, then add wine, rosemary sprig, remaining ¾ cup broth, and garlic paste; simmer over medium-high heat, until reduced to about 1 cup, about 8 minutes. Add accumulated juices from chicken and discard rosemary sprig; adjust seasonings with salt and pepper to taste. Carve chicken and serve with jus.
If the roasting pan is considerably larger than the chicken, keep an eye on the pan drippings; the greater surface area may mean more rapid evaporation and a risk of burnt drippings. Add water to the pan as necessary if the liquid evaporates.

STEP BY STEP: Applying the Paste

1. With your fingers, carefully loosen skin over breast and thigh.

<![if !vml]>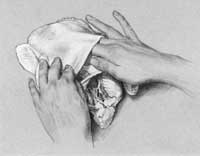 <![endif]>


2. Spoon some garlic-rosemary paste under skin on each side of breast.

<![if !vml]>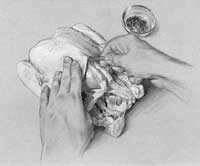 <![endif]>


3. With your fingers on top of skin, work paste to distribute it over breast and thigh.

<![if !vml]>
<![endif]>